Generators
Generators – Click on the picture to see the list of Honda Generator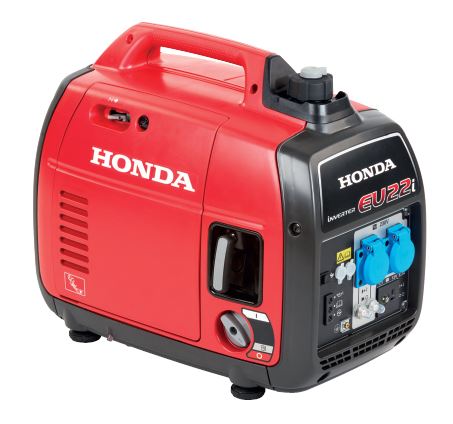 —————————————————————————————————————–
Selection of generator:
The size of the generators are typically given in KVA (Kilo Volt Ampere).
1kVA = 0,8kW (Kilo Watt), equivalent to 800 Watt.
The stated kVA on a generator is usually the peak load that the generator can give momentarily. – Look therefore for continuous performance.
It is important to know whether you need a large inrush current, and if your device / devices are 1-phase (240V) or 3-phase (400V).
Lighting and heating units as welding mirrors, elmuffe welding machines, electric ovens, coffee machines, lamps and the like, using no inrush current when turned on, which means that the generator can be selected as continuous output of the generator.
When starting the engine in hydraulic pumps, planing, pumps, large angle grinders, fans, vacuum cleaners, chainsaws, compressors used a large inrush current, and you should choose a generator are considerably above the device usage.
—————————————————————————————————————–
Voltage regulation on generators.
The following shall be used only as a general overview and can fluctuate depending on the generator type.
Always use the manufacturer's instructions.
| | |
| --- | --- |
| Type of voltage regulation | The voltage ( Volt ) can typically fluctuate approx : |
| Capacitor | 35 % |
| Compound | 15-20 % |
| cyclo Converter | 10 % |
| AVR Automatic Voltage Adjustment | 10 % |
| D-AVR Digital Automatic Voltage Adjustment | |
| I -AVR D-AVR combined with electronic rotation control | 2,5% |
| Inverter | 2,5 % |
—————————————————————————————————————–
Use a premium 4-stroke engine oil , equivalent to the requirements of API classification SE or higher. SAE 10W-30 is recommended for general use.
Always use the manufacturer's instructions.