PUR - Polyurethane
PUR is available in both thermoplastic and thermoset. Polyurethane is a material group spanning soft elastomeric foam. PUR can be divided into the main types: elastomere, soft foam, rigid foam, compact types, and integral foam. Polyurethanes are prepared from an isocyanate and a diol or a polyol. The properties will vary depending on the type of isocyanate and the polyol or the diol. PUR fremstilles estertyper og som som ethertyper.
PUR is phased polymerized plastic. PUR is built up in practice the isocyanates of TDI and MDI.
As propellant for foamed PUR is used often water, CO2, cyclopentan, isopentan eller en halogeneret drivgas.
Application: When PUR is very different in their structure, it is difficult to generalize about the uses. Globally applied where about. 9 million tons PUR.
Common uses for PUR, are machine elements bøsninger, wheel coverings, tenant, false- and rullebelægninger links. Typical applications for PUR-EM are large, wear-loaded subjects such. skids. Foamed polyurethane elastomer used as spring elements and shock absorbers in production– and transport equipment. PUR is used for coatings on rainwear, including the types of breathable. PUR is used for shoe soles, stuffing in furniture (foam rubber), sponges, transportruller, conveyor belts, insulation of heating pipes, castable, sealants, cabinets, body parts in the transport industry, slidemner i pumper, seals, textiles.
Thermoplastic polyurethanes combines polyurethane elastomers high qualitative characteristics with termoplasters efficient processing characteristics and are used for example. for the production of transparent and scratch-resistant films and hoses, sports- and medical equipment.
PUR is also used as glue and paint.
Fire: PUR develops smoke and toxic gases in case of fire. There are no fire classification of PUR.
electrical Properties: The electrical properties are roughly comparable with thermosetting, but generally set lower end for thermoplastics.
Colors: PUR is light yellow to brown. Some types are unstained.
PUR can be colored, but with certain reservations.
Physiological properties: Application is not advisable during prolonged contact with food. PUR's health unproblematic. PUR intermediate goods, due to the manufacturing method, not suitable for prolonged contact with food.
History: I 1937 synthetisierede Otto Bayer sammen med sit hold i laboratorium Bayer AG i Leverkusen for første gang polyuretan
(polyisocyanate polyaddition processen).
I 1940 began the industrial production of Bayer-Werke in Liver Kussen. due to the 2. World War and the consequent scarcity of raw materials, developed market for PUR slowly. Until 1952 was less than 100 T pr. years of the important polyisocyanate toluylendiisocyanate (TDI) disponipel. In the years 1952 to 1954 was polyester foam developed, which temporarily limited the commercial interest of polyurethane. I 1960 produced more than 45000 t. PUR foam.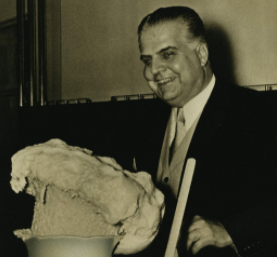 Professor Dr. Otto Bayer, German chemist, who was head of Bayer's research in the 30 year. born. 4 november 1902 i Frankfurt am Main. Death 1 august 1982 i Burscheid.
Trade names: Vulkollan®, Elastopal®, Elastollan®, Desmopan®
Chemical resistance: PUR is resistant to weak acids and bases, ozone and oxygen, mineral oil, petrol and grease (additives can attack)
The swelling occurs by contact with alcohols, essential carbon disulfide, ester, ketoner og chlorbrinter. PUR is not resistant to strong acids and bases. Pur is not resistant to hot water and steam.
Chemical structure: Using the drive means oscillates the density from about. 0,40 to 1,20 g/cm3.
Bonding: When gluing, one can use contact- or two-component adhesive. As with all bonding is crucial, that the type of adhesive suitable for the purpose, and that there be a thorough cleaning and preparation of the bonding surfaces. Thus, it is necessary
removing oil, dirt etc., but also støbehud, in order to obtain optimal binding.
Mechanical properties: PUR is used, where requirements for flexibility, wear resistance and shock absorption ability to.
High tensile strength combined with a high elongation at break . High durability. Good damping properties – PUR has a high strength / weight ratio.
PUR elastomer can be subjected to a very high elongation (least 2 times the original length), without shattering, and it goes back to close to the original, when the load is removed.
PUR is durable.
PUR-A has very good ability to withstand vibration.
Environment: Polyurethanes are a very varied group of different substances, therefore it is difficult to generalize the information on the environment. Environment- and working properties are dependent upon the isocyanattype and of polyol / dioltypen and any foaming agents. When heating Pur isocyanates containing at, to use a hood or mask with fresh air supply.
Optical properties: PUR is usually provided no clear performance.
Surface treatment: Is usually not possible with soft types, while the hard types can be painted.
Cleaning: . PUR is not resistant to hot water and steam.
Assembly (mechanical): PUR may be prepared in its final form by a relatively simple reaction molding process. This applies to both cell filled as compact PUR. One can by this process embedding metal items such. nuts or thread pieces.
casting: Moulded products in both solid, foamed as flexible polyurethane, Both in 1 as 2 component.
Cutting – punching: Semi-finished products can be processed or reworked by punching and multiple types of machining.
Cutting hampered by high peel strength combined with high toughness, and is facilitated by the relatively stiff subjects than in the softer. Subjects can be made more rigid by freezing before processing. The cutting tools should be sharp, and cut and chip breaking areas can be lapped or polished.
as cooling- and the lubricant used is compressed air or water and conventional refrigeration lubricants.
Welding: PUR kan stuksvejses (welding with Teflon-coated heating plate).
Thermal Properties. PUR retains its elastic properties almost constant in the temperature range -40 ° C to + 80 ° C. At high dynamic loads can cause high temperatures due to internal friction (hysteresis), a strain rate of about. 30Hz is a maximum advisable for a long period.
PUR's coefficient of thermal expansion (200×10-6) is great, which bl. a. is important when mounted on metal items.
Compact PUR is very flexible even at low temperatures
UV- Stability: Weather resistance of PUR is good. When exposed to light, gulner the, but this usually has no effect on its properties. PUR degrade in sunlight. Ethertyper mørner i lys. high ozone- and UV resistance
Thermoforming (Termoformning): Ikke kan PUR termoformes.
Density ( gram / cm³ ) : 1,20 – 1,26